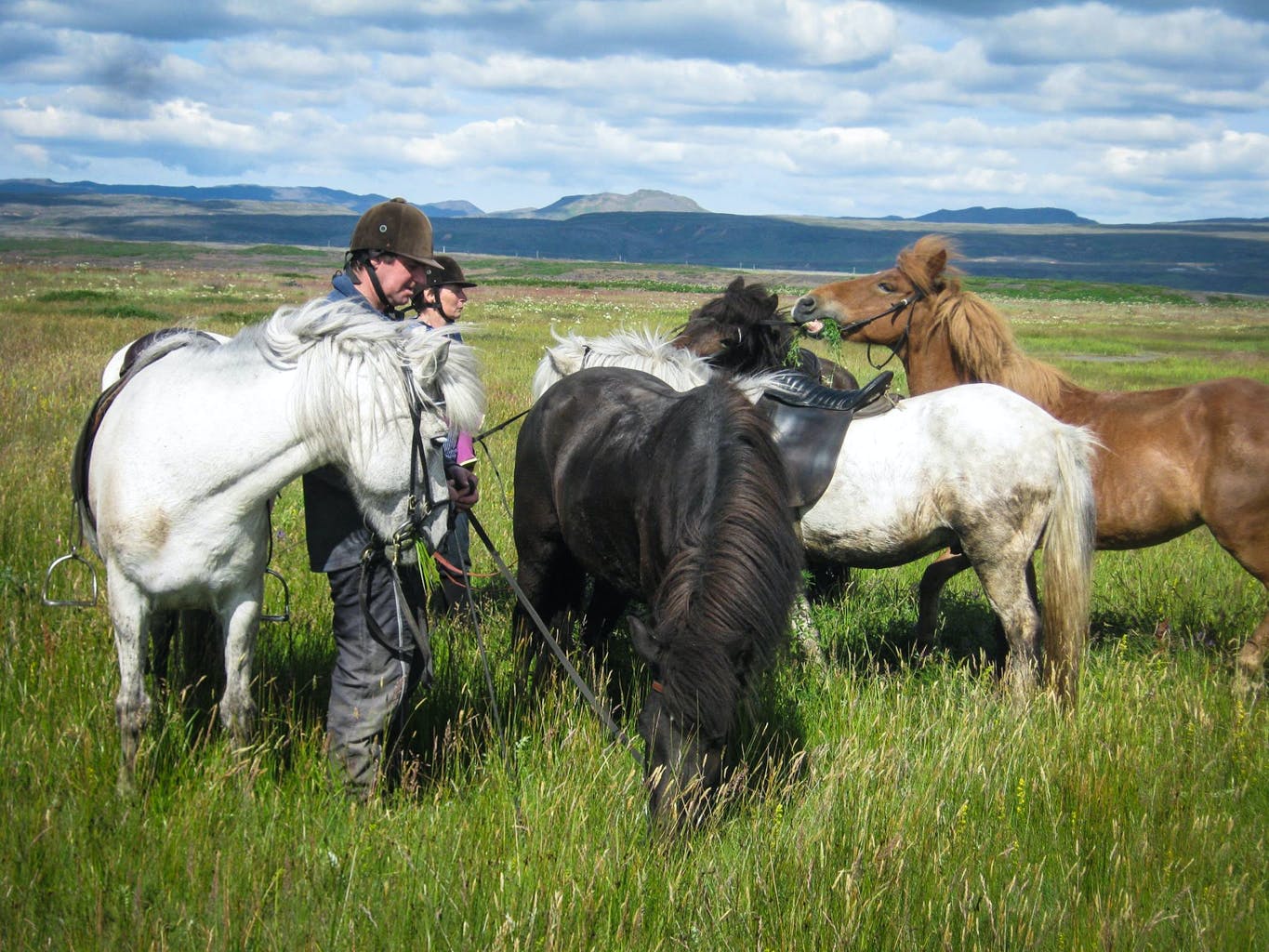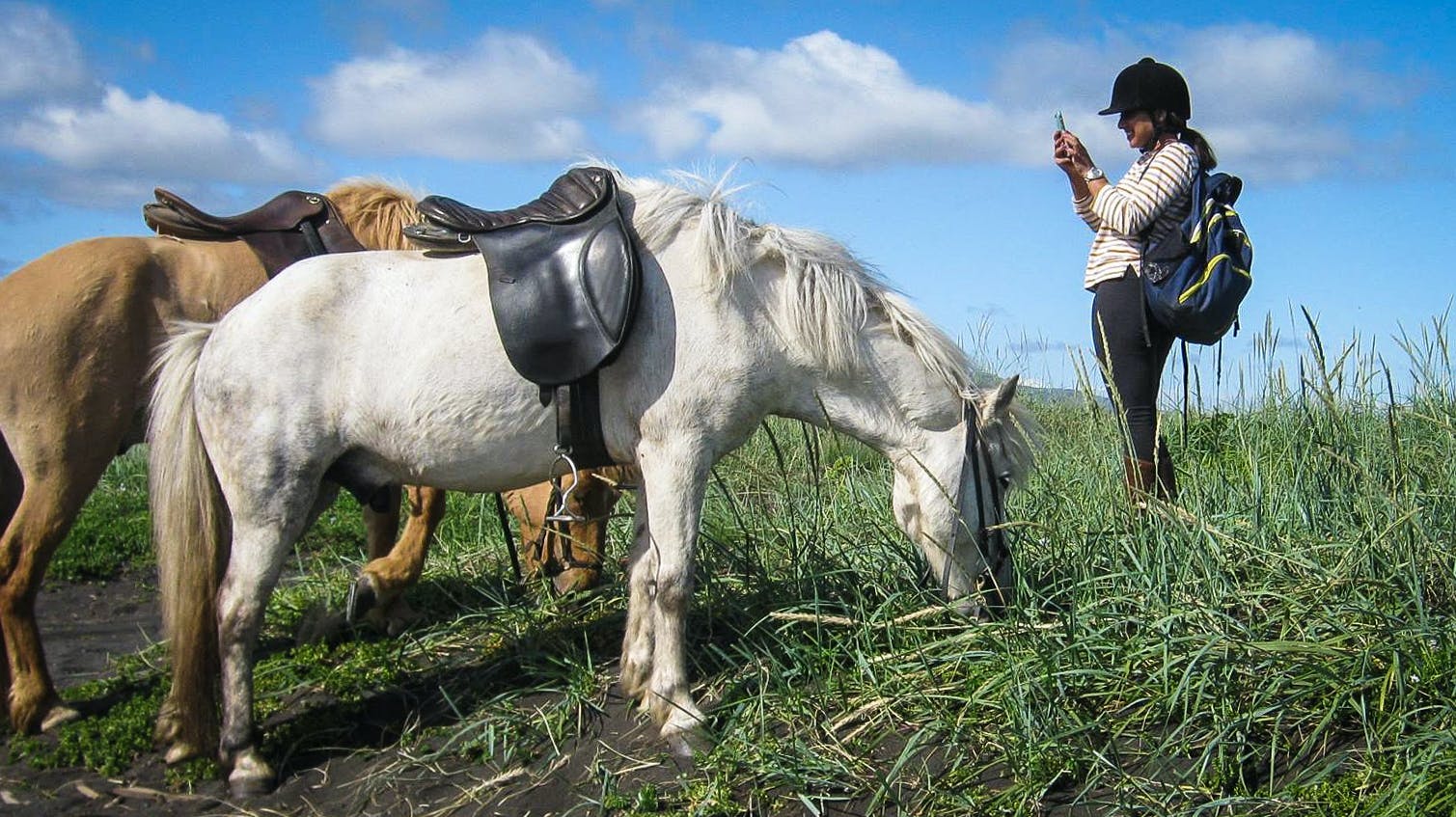 Alhestar is a family run business in the small fishing village of Þórlákshöfn, South Iceland, located just 30 km from Reykjavik. The owner is Magnús Margeirsson, who was born and raised in Skagafjörður fjord—and so were his horses. Skagafjörður horses are said to be the most robust and most gentle horses in Iceland. Magnús has been working with horses since he was a boy. You will immediately feel the close relationship he has with his horses.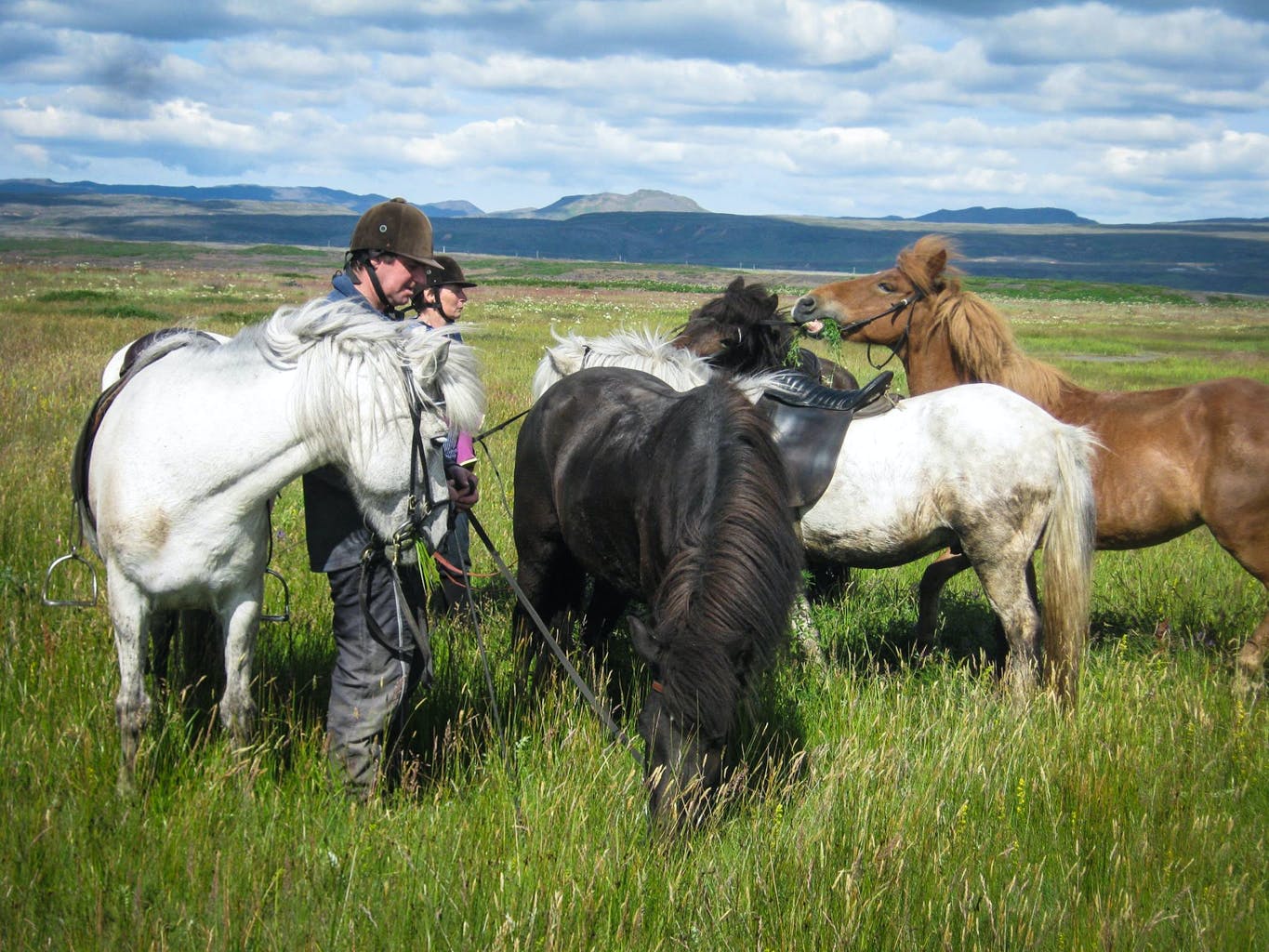 Pickup in the Reykjavik area by appointment!

Enjoy the nature of south Iceland on a wonderful Icelandic horse. Enjoy the soft gait "Tölt" while riding through the lava fields and the black beaches. The Icelandic horse is known for it's sweet disposition whilst making the rider feel safe and secure in the saddle. Alhestar is a company with focus on giving the riders the best experience while enjoying the Icelandic nature from the back of the Icelandic horse.
Try-Out  Tour

Departure from

Thorlakshofn

1 hours  –  All year
Horse Riding Family Tour

Departure from

Thorlakshofn

2 hours  –  All year
Easy 3 hour horse riding

tour through the contryside

with snacks….

3 hours  –  All year
Lava Tour

Departure from

Thorlakshofn

4 hours  –  All year
The Beach Tour

Departure from

Thorlakshofn

4 hours  –  All year
Evening Sun Tour

Departure from

Thorlakshofn

4 hours  –  from May – August
Book

Amazing experience!!  I did the Midnight Sun Tour last week and it was fantastic! Very vell organised- booked through this website here, confimation with all the detalis came thorugh straight away and the pick up was also arranged by them as the riding centre is abourt 4o min drive from Reykjavik. The lovely lady, Elva who did the pick up is also one of the riding guides and a very friendly and kind person who speaks excellent English. She was very informative about the ride ahead and also told a lot of interesing things abuot iceland in general on the drive to the stables. Once we got there, we met the owner Magnus who is so welcoming and warm you feel at ease instantly. We had some coffe and a chat about what to expect from the ride. Magnus is a great horseman and he knows his horses so well, he knows exactly which one to pair you with according to your skills level. But all the horses are incredibly beautiful and sweet natured. We took a few wxtra horses with us as they love it running along with others. It's not a tipical "nose to tail" ride. Magnus is so brilliant, he modifies the route and speed according to the riders. The midnight ride was 4 hours, but i could have carried on- it was that much fun!  We rode across the sand dunes, lava fields, contry roads and beautiful beaches. We had a few stops along teh road, to let the horses rest and eat some grass and have a little stretch ourselves. The scenery was so magical and the ride from sunset to sunrise, in the twilight/moonlight, when it barely gets dark at all was just a stuff of dreams!! I would very much recommend the evening/twilight ride, but I'm sure the daytime and fhroter rides are just as great!. Beautiful and spirited, yet so gentle Icelandic Horses, great people who really look after you and love their horses and the fairy tale like Icelandic landscape! One of the best rides and possibly the best thing I have ever done on a holiday!

Our guide Annika was really sweet and she made the entire experience for me a wonderful one. The owner was Icelandic and could not communicate in English, but Annika translated for us. It was our luck that it rained and could not see the midnight sun. There was hail stones and we were all wet (our luck). However, we completed the 4 hours hours riding at night and were surprised at the agility of the horses and how well the owners were well versed with the entire landscape and location. It was difficulty for myself as I was a beginner however, Annika made it all better for me. I managed to experince the horses straddling and galloping. It was an overall learning experience for us. We were thankful for the gentle horses and the owner's kindness even when it was so cold and tiring for them.

A memorable experience I did a midnight sun horse trek on 20 June. Due to Civid-19 and tourists only just trickling into the country I was the only person. Eric picked me up from Central Reykjavik and did the 40 drive to the stables. Magnus was my guide and although he did not speak any English he was charming and a delight to trek along the lava beds and the cliff coastline. I was called beforehand so they know level you are and to give you the right horse. These are two genuine guys who are try hard to please. I was lucky enough to be invited back for coffee and cheese even though it was now 1.30 am. A lovely experience that will stay for me forever.

Horse trip with Magnús Very nice expiriance ,and fun ,well round it with the kids we will definately go again!!! !!!!!! We went riding between hveragerði and þorlákshöfn its was very nice all the view around

Icelandic fine horse I am Icelandic and I know the Icelandic horse and coming back to visit to my old country so nice to see and feel and write the Icelandair Horse. Excellent service nice people and the horse is the Cadillac of horses

Nice Experience with Alhestar I visited Alhestar with my friends and had the best experience!! I really enjoyed that. This is my first time, but the staff made me feel safe. At the end of the tour, they offered us hot chocolate, water, cookies. I want to say thank you. And Recommend to everyone.

Horses Very beutiful horses. I was blown away for the tour i have. Great weather and great horses. This wan who is working there is really good teacher.

Horseriding tour Very nice trip with great turist in a beautiful icelandic natura. Very good house and beautiful horses. Thanks

Unbelievable experience Went there with my family and the owner was so kind and made this amazing trip unforgettable ? ? He knows everything about horses and showed us and the kids how to get the horses to like you, we will most definitely go there again. ⭐️ ⭐️ ⭐️ ⭐️ ⭐️ Experience and highly recommended

This is a must do in Iceland! Amazing experience horseback riding Beautiful riding area for all riders whether beginners or riders who are used to ride freely. Personal small groups that make the experience great. Warm receptions from the staff. The owner is quick to see which horse suits each person so everyone is safe and can enjoy the beauty of the area and the fun company. Our horses were lovely and our guide was very patient with my non-riding partner. We loved that it was a "homeplace" stable and not some fancy tourist place. You are able to bring your horse into the practice area, brush, saddle up and then practice a bit before hitting the trail. Magnús made sure we were both comfortable in the saddle before going out. We enjoyed both the leisurely and faster pace and ask for more tolting if we wanted. We did tolt on the beach and even got to dodge a few territorial birds and other birds like the "Kría"! lol. Loooved the "breathtaking of beauty".. long black beach tour and going through the lava area. Coffee and refreshments available at the beginning and after of the tour <3. We had a great time and enjoyed everything about this trip. They do offer pick up in Reykjavik but if you are ever driving around in Iceland near Thorlakshofn and feel the urge to breath Icelandic nature and wild life all in, and love horses, you won't be disappointed booking here. Recommend 100%